How do we eat Real Food in 2016? How can we maintain a healthy balanced diet throughout the year, catering for everyone in our family?
Grocery shopping becomes a guessing game at times with manufacturers changing the names of additives, confusing us when labelling eggs as cage free, free range, happy to roam etc. I've recently read part of Michael Pollan's latest publication on 'In Defence of Food'.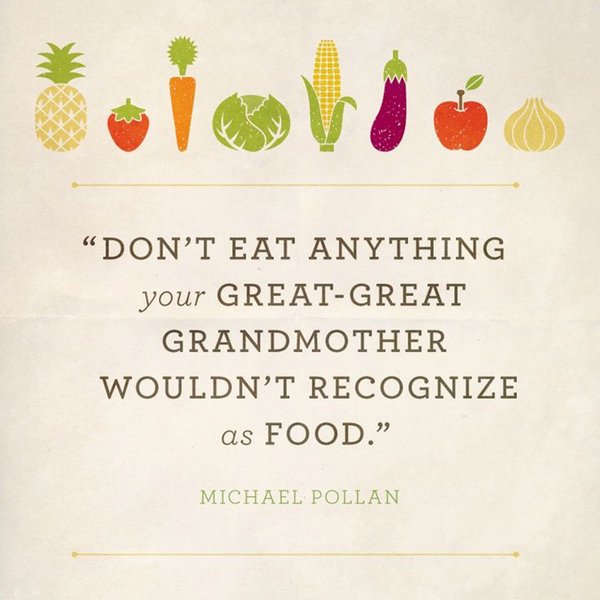 Michael Pollan's story made a lot of those "confused mommy' thoughts clear to me. He's also of the opinion that we don't need to follow a strict diet or participate in some food challenge like 'Veganuary' to eat real food preferably biological, healthy, sustainable and/or politically correct.
(Order the book here on Amazon)

"Don't eat what your great-great grand mother wouldn't recognise as food", it's really that simple. Here are a few of Michael Pollan's great tips:
*Eat food. What is real food? Food is that which your great-grandmother would recognise as food. That means no "go-gurt," no "meal substitutes," no "protein shakes."
*When you're in the supermarket, "avoid food products containing ingredients that are a) unfamiliar, b) unpronounceable, c) more than five in number, or that include d) high-fructose corn syrup."
*Eat mostly plants. Think of meat as a side dish or garnish rather than the principal component of the meal. Eat wild plants when you can.
*Eat less. Spend more — more money and more time on buying products that have been treated well and are free of any nasties.
*Visit the local (farmer's) market, buying the locally grown produce supports the local farmers and the local economy. Home-grown these products just taste better and force you to get cooking for real! (And increase your knowledge on that particular ingredient).
*The way you eat is just as important as what you eat. Go with the flow of the eating habits of granny, eat together whenever you can, have normal sized portions and dish up only once! And no snacking (of which I am very guilty ;))
But most of all have fun while eating to keep a happy and healthy digestion! In short: take time to buy, cook and eat your meals and enjoy!