Get your kids involved in the kitchen! It can really help them in making healthier choices and create more interest in 'new foods'. Kids will learn the basic cooking skills and understand how to combine basic ingredients to cook up a wholesome meal.
The kids cooking workshops at Muriel's Kitchen are sociable and interactive. The li'l chefs work together in small groups, taking turns and helping each other to make the dish of the day.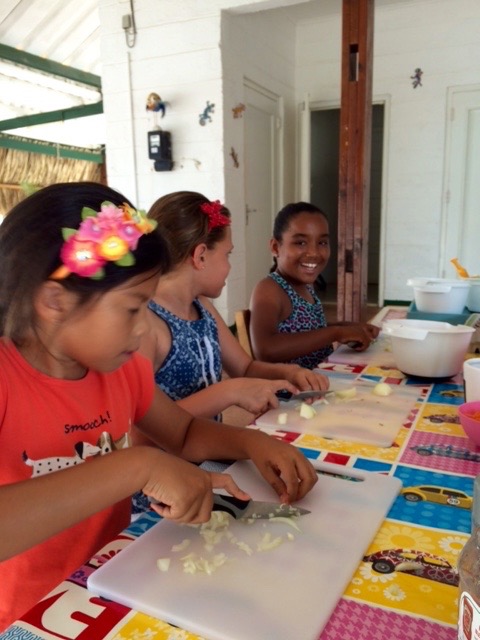 Kids Cook Monday ( 6 – 12 yrs) from 15:00 – 17:00
We start with the basics; teaching kids basic knife skills and basic ingredient knowledge. How we can cook a wholesome, and most importantly, kid-friendly meal with basic ingredients.
Each class runs for two hours and kids will enjoy a generous sample of every wholesome meal.
This 10 weeks hands-on workshop programme is limited to 10 students per class. In the outdoor kitchen the kids will learn to make a variety of international dishes. The programme will cover fundamentals such as basic knife skills, reading recipes and kitchen safety and hygiene.
Kids Cook Monday dates & times:
January: 18th, 25th
February: 1st, 8th, 15th, 22nd & 29th
March: 7th, 14th & 21st
Every Monday from 15:00 – 17:00
Kids Cook Membership card
10 workshops: Naf 400,- (incl OB) per little chef, all tuition, ingredients and aprons included.