Shoarma: a Dutch all time favourite. I've played around in the spice cupboard a bit and this is the mix I came up with.
Most definitely enjoyed on a warm pita bread smothered in home made dill and garlic sauce or this lovely version of Arabic Amba sauce made from mangos and spices.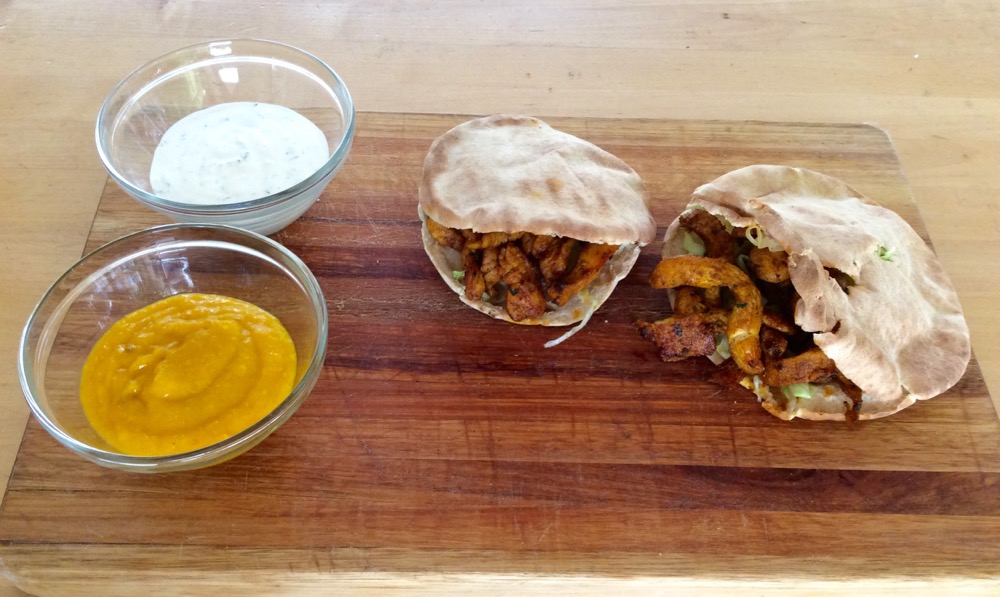 Forget about those pre-made sauces, try this and you'll never want it from a bottle again 🙂
What you need for the dill and garlic sauce:
– thick yoghurt, Greek yoghurt is great
– good quality mayonnaise, preferably the ones that uses free range eggs
– two cloves garlic, crushed
– (fresh) dill, dried is also fine
– lemon juice, salt & pepper to taste
Optional: – Add some grated cucumber for extra freshness, this makes the sauce into a tzatziki type of sauce.
Combine about 4 tablespoons of yoghurt with two teaspoons of mayonnaise. Add the garlic and two big pinches of (fresh) dill. Add a squeeze of lemon juice, salt and pepper to taste. Give it all a quick stir to combine all the ingredients. At this stage you could add the grated cucumber, be sure to have a taste again as you might want to add an extra pinch of salt.
What you'll need for the Amba sauce:
– 2 ripe mangos, peeled and stone removed
– 1 garlic clove, finely chopped
– 1 teaspoon fenugreek
– 1 teaspoon whole mustard seeds
– 1/2 teaspoon tumeric
– 1/2 teaspoon cayenne pepper
– 1/2 paprika powder
– juice of 2 limes
Roast the spices and the garlic in a little (olive) oil until the mustard seeds start to pop, remove from heat. Grind the spices and garlic to a paste in a pestle and mortar.
Add the pieces of mango to a blender and wizz into a mushy paste, add the lime juice and spice paste and give it a good stir. Add salt and pepper to taste.
Shoarma recipe – homemade spice for chicken, pork or lamb strips.
(Enough for 500 grams  meat)
What you need:
1 teaspoon ground cumin seeds
1 teaspoon ground coriander seeds
dash of cinnamon
1/2 teaspoon garlic powder
2 teaspoons paprika powder (not smoked)
1/2 teaspoon ground ginger
dash of nutmeg
1/2 teaspoon turmeric
1 teaspoon chilli powder
1 tsp dried parsley
1/2 teaspoon black pepper
1 teaspoon salt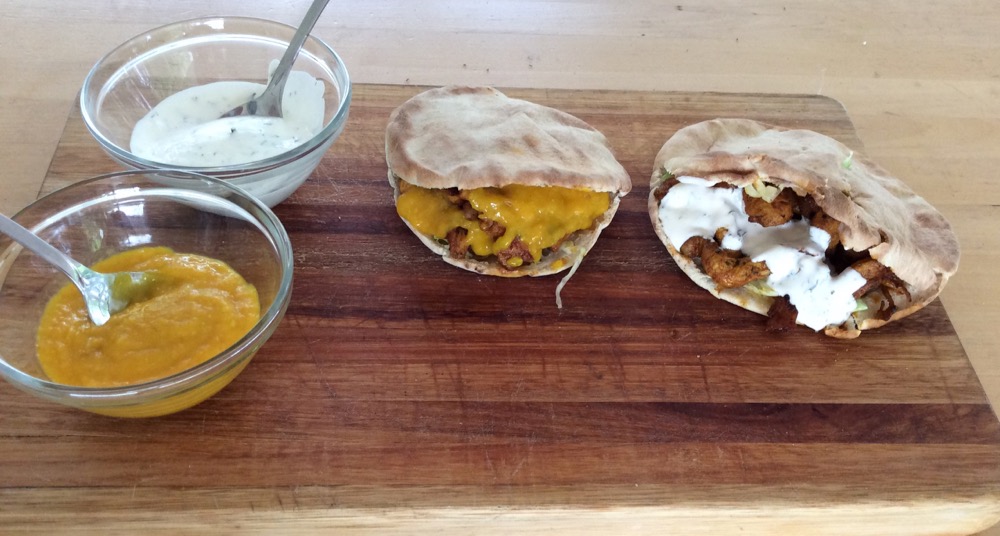 Combine the spices, and add to your meat. Leave to marinate for about 15 – 30 minutes.
Heat up a frying pan, add some olive oil. Brown the marinated shoarma meat in batches as to not overcrowd the pan. When the strips are cooked through and some are crispy take it out and set aside. Start with the next batch.
In the mean time, get your toaster ready to warm up the pita breads.
Slice the pita breads open, not all pita breads are meant to slice open, some you can simple fold over.
Add the meat to the bread, fill it up with some shredded lettuce and top it off with some homemade dill and garlic sauce or the spicy Amba sauce.