Whoop here it is! The signature dish for Food Revolution Day 2015!
Honestly? At first I didn't think this combination would be kid-proof, thank goodness I was sooooo wrong! This is just such a great sandwich and what a wonderful way to get your kids to smash and munch those crunchy veggies! Check it out for yourself: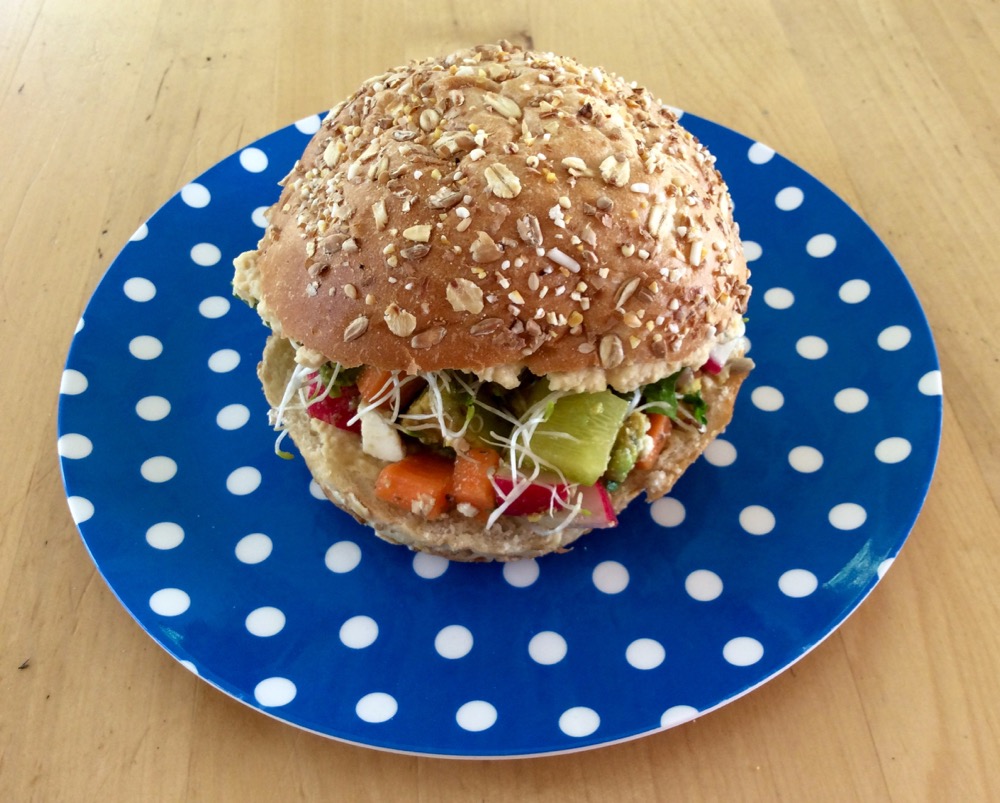 Ingredients:
– 4 seeded wholegrain rolls
– 4 radishes
– 5cm piece of cucumber
– 1 carrot
– ½ red pepper
– ½ apple (core removed)
– 1 tablespoon balsamic vinegar
– 1 tablespoon extra virgin olive oil
– 4 sprigs of fresh soft herbs, such as dill, flat-leaf parsley, coriander or basil
– ½ punnet salad cress
– 1 tablespoon sunflower seeds
-½ avocado, pitted and chopped into blocks
– 2 tablespoons quality cottage cheese or feta
– 2 tablespoons quality hummus, or make your own!
This is how you make your own hummus:
– 1 can chickpeas
– 1 tablespoon tahini
– 1 garlic clove
– juice of 1 lime
– 1/2 teaspoon paprika
– 2 tablespoons olive oil
– Salt and pepper to taste
Place all the ingredients, except for the olive oil, in a food processor and blend it until you get a lovely paste. Add the olive oil bit by bit whilst blending. Have a taste for salt and pepper.
This is how you make the Squash-it sandwich:
Chop the radishes in half lengthwise and then slice each half into 3 pieces, place in a bowl.
Peel the cucumber; slice it in half and scoop out the seeds. Cut the half of the cucumber into 3 strips and in blocks.
Peel the carrot and chop into similar size blocks as the cucumber.
Wash and cut the peppers in half, remove the seeds and the white bit (the pith) and chop into pieces.
Remove the core of the apple and cut the quarters into smaller blocks.
Place all these ingredients onto a clean tea towel, fold the towel close and smash the veggies with a rolling pin a few times to release the maximum flavours. (And remember: smash it! don't stroke it!)
Unfold the tea towel and put the veggies back into the bowl.
Add the cottage cheese or feta, the avocado, sunflower seeds, olive oil and balsamic vinegar and the herbs and watercress. Coat all the ingredients with this simple but lovely dressing.
Slice your whole-wheat rolls in half, spread the top and bottom with hummus and add a handful (or two) with the crunchy smashed salad.
Happiness on a bun! Thanks Mr Jamie! This is just lovely!
(Squash-it sandwich is an original Jamie Oliver recipe)