Great for if/when you have any left over roast chicken… if ever.. :p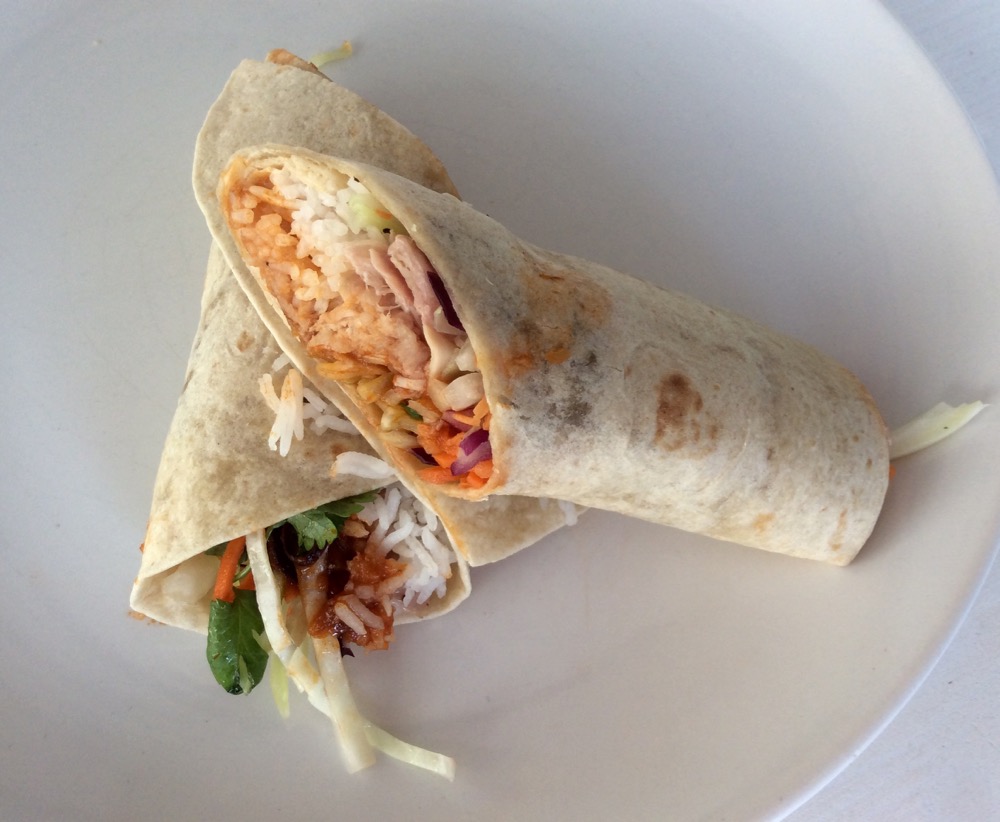 What you'll need for 2 persons:
– 1 leg/thigh piece of roasted chicken
– 2 whole wheat wraps
– 200 gram cooked basmati rice (optional)
– bit of crisp ( mix of shredded white cabbage, red cabbage, carrots, some fresh coriander, a dash of olive oil, a big splash of apple juice and some salt & pepper)
* Inspired by DJ BBQ's BBQ sauce *
– 1 medium onion, finely sliced… I know you will cry, but the finer you slice 'em the smoother the sauce will be
– 3 garlic gloves, finely chopped
– 50 gr unsalted butter
– some olive oil
– 1 tablespoon runny honey
– 2 tablespoons soft brown sugar
– 1 teaspoon fine mustard (powder)
– 2 tablespoons Worcester sauce
– 3 tablespoons tomato puree
– 3 tablespoons vinegar
– 125ml (big squeeze) tomato ketchup
– 3 bay leaves
– salt & pepper to taste
Start by making the BBQ sauce. It takes a little time but it is so worth it. I didn't include the bourbon whisky or the chillies as I figured it would be too hot and spicy for the kids.
Melt the butter with the olive oil in a small pad and add the finely chopped onion and garlic. Cook for about 5 minutes or until soft but not brown.
Add the sweetness: honey, sugar and mustard, give it a good stir and allow to melt a little.
Stir in the other ingredients and add about 200 mL water, loosen it up by stirring, bring to a boil, allow to simmer for about 45 mins until it thickens.
Mix the cabbages and carrot in a bowl, add the chopped coriander, dress the crispy salad with some olive oil, apple juice and salt & pepper. (DJ BBQ also makes a similar, very nice coleslaw!)
Take the meat off the bone and set aside.
Heat up your wrap, layer the chicken (and rice if you like) and the crispy salad over the length of the wrap, add some homemade BBQ sauce, roll it all up and tuck in!