The Grow your own project at Hofi Cas Cora is growing to become a wonderful growing project for all ages!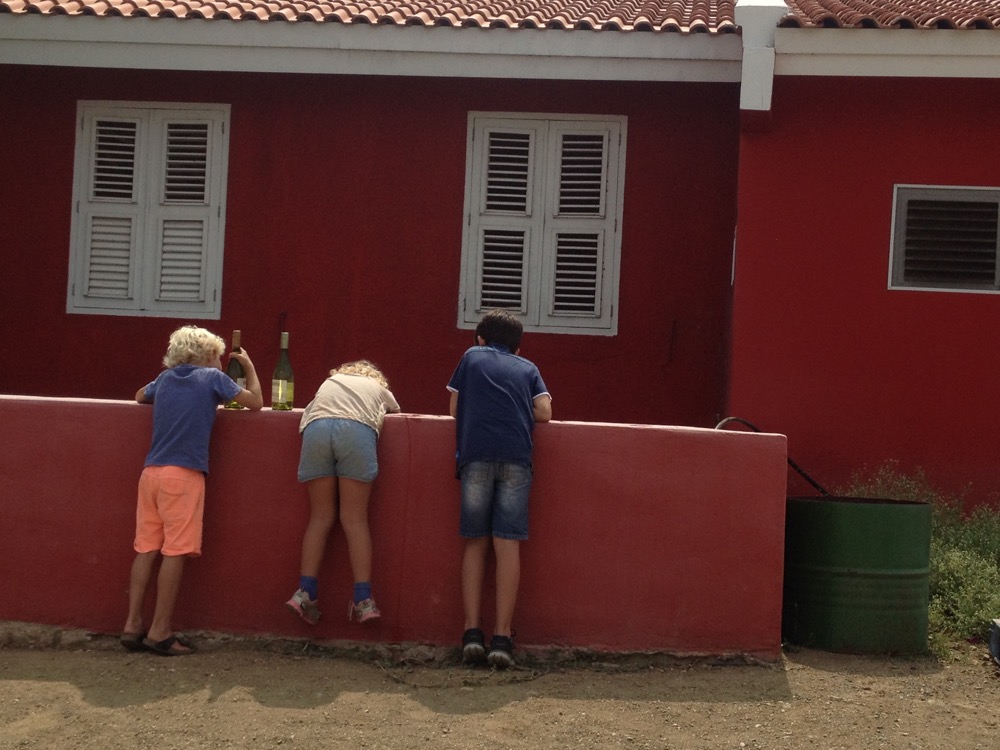 The start of the project was simply awesome, two days filled with pallets, soil, plants, water, yummy lunch and lots of fun!
We started the project using old pallets (plenty of those around with all the importing going on here on Curacao). By turning the pallets upside down we stapled special plant growing cloth to the sides and the bottom of the gaps between the pallet slats to create the planting area. As the ground is rock hard at places on this island due to the volcanic rock, we decided to give the plants a try and not dig them into the ground.
We filled the planters with the fertile soil of Hofi Cas Cora, dug a space for the already grown pepper or tomato plant and carefully placed the plant in it's new home.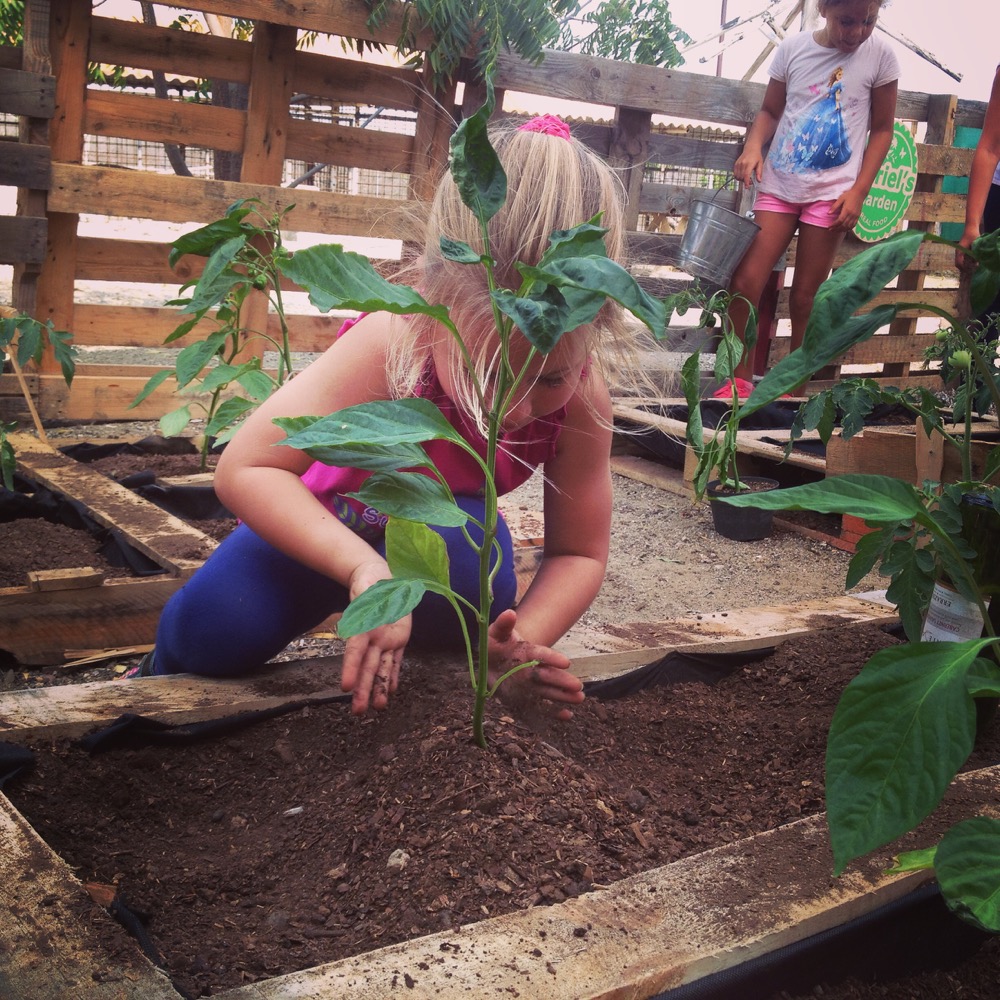 For the watering system we've used old wine bottles, where we've removed the plastic bit from the cap, made a few small hoes in the lids and filled the bottles with ground water (as the tap water contains too many chemicals here on Curacao). The bottles are then placed upside down near the roots of the plant to ensure optimised watering. These bottles will water the plants for about two days in this hot and windy climate (30 – 35C).
Next up was the making of the signs, we used the offcuts of the pallets for this. Painted the background black and the kids wrote their names on it, we nailed a stick on the back and placed the sign by the plants so that we know which plant 'belongs' to who.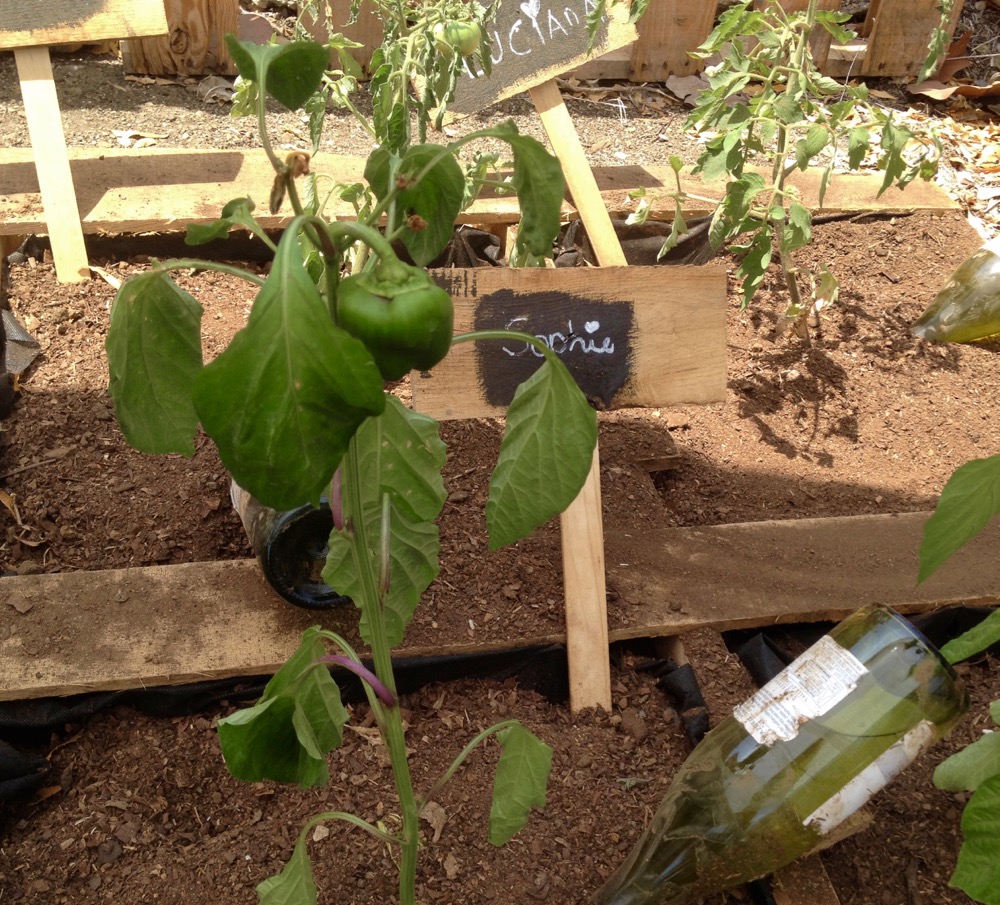 So far, the plants are very happy where they are, they're growing nicely, the watering is working and surprisingly (knock on wood) the iguanas are staying away!
We also planted some papaya and aubergine (beherein) seeds in egg boxes. Not sure how that is going to go as the ones I have at home haven't come up yet…maybe I'm just a little too impatient, I'm going to give it some extra time.
To top our awesome start to this project Telenotisia came by for a quick interview with Femi (hofi Cas Cora), the kids, and me 🙂
Interview with Telenotisia on the Grow your Own project at Hofi Cas Cora
This Saturday (16th April) we're going to be trying out another creative way to grow your own. We'll be re-using bottles again and of course we'll be exploring the farm and cook up a yummy goody lunch. Sign up here if you're keen to join!