The colour of the royal Dutch family is orange, so whenever there is a celebration, like King's Day, everything gets an orange tinge to it. As do these typical Dutch pastries, any other day you would find them covered in pink glaze.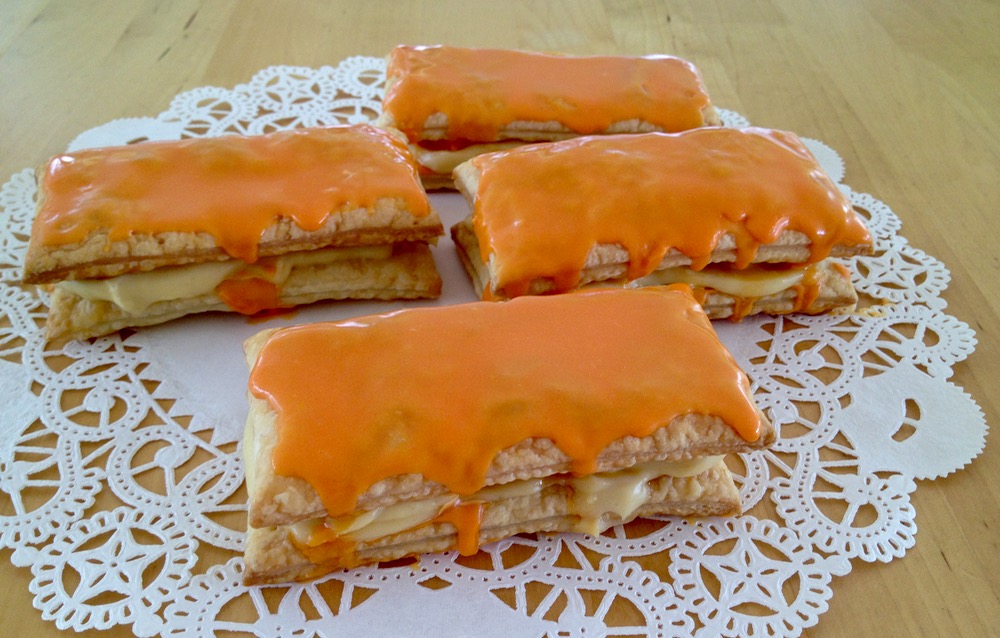 What you'll need for 6 tompoezen:
– 250 mls full cream milk
– 2 eggs, split
– 40 grams castor sugar
– 20 grams plain flour
– 1 teaspoon (clear) vanilla essence
– 6 puff pastry sheets
– 200 mls whipping cream
For the glaze:
– 1 cup icing sugar
– a bit (1/2) of the egg white, whisked (you can use some water too)
– food colouring (yellow + red = orange)
Let's get the cream filling going first.
Split the egg white from the yolks, place the yolks in a bowl and add the sugar and just a dash of milk. Whisk it together until it looks creamy.
Heat the rest of the milk in a pan, when it has come to a boil, you slowly add the egg and sugar mixture, whisking all the time or the egg will solidify. Sift the flour before you add it bit by bit to the egg and milk mixture. Keep stirring until you have the required thickness, this should be a thick (hopefully clump free) custardy thickness. Add the vanilla and stir it once more.
Preheat the oven to 225C.
Slice the sheets of puff pastry in half and poke small holes in the pastry with a fork. This prevents the pastry to puff too much. Place the puff pastry on a, with baking paper lined, baking tray and bake for abour 20 – 25 minutes or until golden brown.
By now your custardy filling should have cooled down. Whip the cream with a little sugar to a lovely thickness, so it forms peaks. Gently fold the cream in the cooled custard.
Take the icing sugar and the whisked egg white, add about a tablespoon of egg white to the sugar, give it a good stir and add the food colouring yellow and a dash of red to make orange.
Now you can assemble your tompoes: spread about 1 -2 tablespoons of filling onto a piece of puff pastry (it should be enough filling to make it squirt out the sides when you take a bite) and place another piece on top.
Drizzle the glaze over the top piece of pastry and spread it gently with the back of the spoon.
Congratulations you have just assembled your first tompoes! The King would be pleased 😉