At Flavors of Curacao we introduced these sliders: half goat mince, half beef mince, a dash of fresh herbs and spices, a fresh roll and some sauce (of course) makes for a lovely goat slider. I learnt about the long bean fries at one of the lovely workshops at SpiceGirl. They're lovely, crispy and with a little salt a great alternative to the standard potato chips.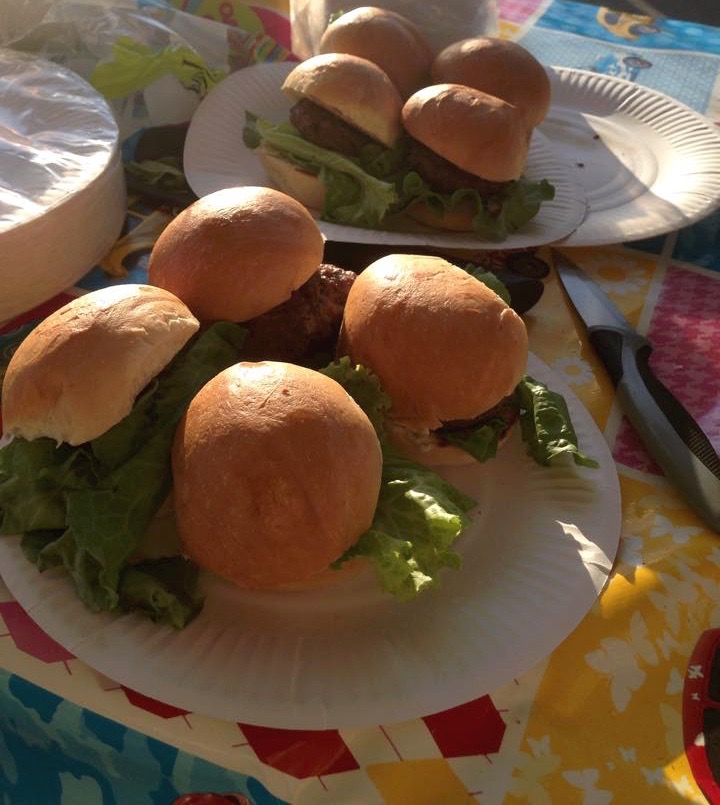 What you'll need:
Goat slider patties:
– 300 gr minced goat;
– 300 gr minced beef;
– salt and pepper;
– ½ tsp paprika,
– ½ tsp cumin,
– ½ tsp coriander,
– 1 crushed garlic glove,
– handful of breadcrumbs,
– 1 egg,
– ¼ bunch finely chopped fresh coriander.
Extra: small slider rolls, lettuce, Greek yoghurt, cucumber, fresh coriander.
Place all the goat slider patty ingredients in a large mixing bowl, mix to combine. Allow the spices to draw into the meat for about ½ hour.
Divide the mince mixture into 10 – 15 equal portions, roll each portion into a ball and flatten it to a size that fits a small burger roll.
Heat up a frying pan, add some olive oil and fry the sliders until done, about 3 minutes each side.
To make the yoghurt sauce, combine 2 tablespoons of yoghurt, some salt & pepper, fresh coriander and a squeeze of lime and ½ grated cucumber.
Slice the rolls in 2, spread it with some of the yoghurt sauce, followed by lettuce and the slider patty.
For the long bean fries:
– 300 gram long beans
– tempura batter mix
– sparkling water
– some ice
Wash the long beans and cut off the end bits. Slice the beans into about 5 cm pieces.
Prepare the tempura batter mix according to the instructions, I like to use sparkling water and some ice to ensure maximum crispiness.
Get the oil to the correct temperature. Dip the beans into the batter and carefully drop them one by one into the hot oil. Be sure to keep them away from each other so they don't clump together.
When the batter turns golden remove the beans from the oil and allow to drip in a colander or on kitchen paper to absorb excess oil.
Sprinkle with some (herbed-) salt and enjoy!