"It seems like we treat our kids to fast food meals and punish them by feeding real food: this has to change."
Last week Friday I had the privilege to chat with Dutch Master Chef Dennis Kuipers. As a member of the Dutch Master Chef Guild, proud father of his 12 year old son and Executive Chef at the, Michelin star awarded, Restaurant Vinkeles, we spoke about the importance of real food, food education and living your dreams and how to keep focus.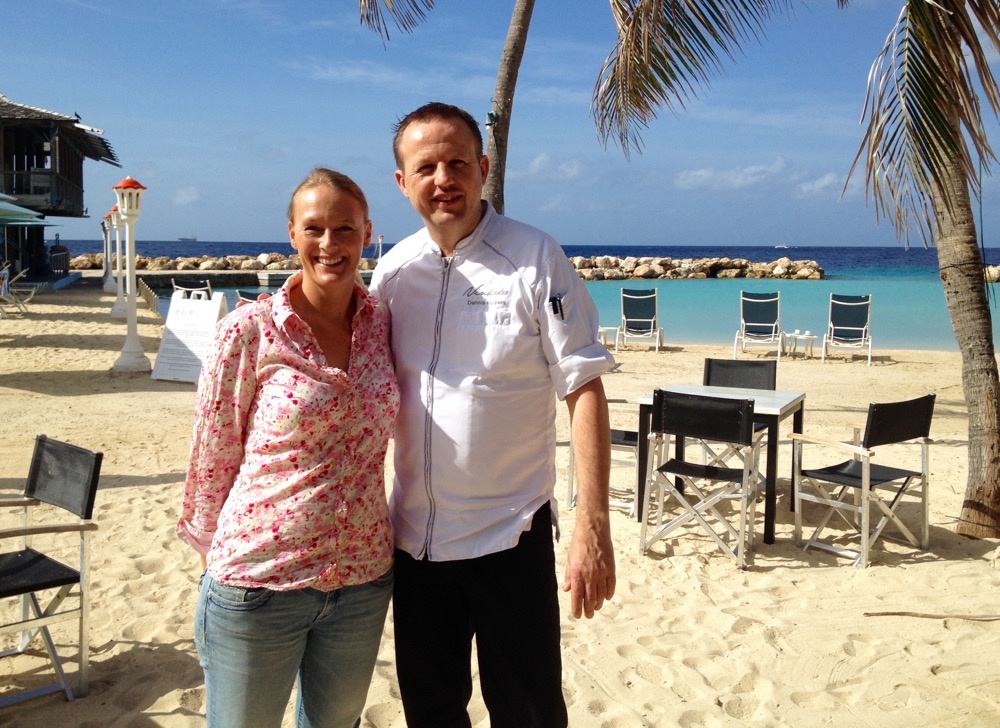 From a young age Dennis already knew that he would become a Chef one day, so did his mom by the way. "Although my family has supported me throughout my journey, I've also lost a lot of friends along the way who failed to understand my determination and commitment. You don't just become a Chef, you have to earn it through hard work, focus and commitment. If you're not sure at any stage of the game, you loose your focus and you loose your momentum: keep your focus and make decisions which benefit your goals. Surround yourself with likeminded people and people who support and understand your mission."
The obesity ratio is very high amongst the population on Curaçao. It is not only a physical problem but soon it will become a governmental problem too, as obesity leads to type II diabetes and other illnesses related to overweight, which in return will increase the medical bills. As an ambassador for the Jamie Oliver Food Revolution I am constantly working on creating more awareness for this diet related problem and how to combat this.
Together with Dennis we put a few things into perspective once again. Isn't it strange that we treat our kids with a fast food meal where is seems that we punish them by feeding them vegetables?
We spoke about how we can get kids more interested in real food and how we can combat (child)obesity.
"It's important to involve your kids in the shopping and cooking process in order for them to understand where their food comes from, what its made from and why it nourishes their bodies." This is why food education should be re-introduced back into the school curriculum. It's been proven that kids who are involved in the menu planning and preparation of the meals actually show more interest in their food and eat it more eagerly. "We have to make time to cook and eat with our kids, even if you lead a busy life. It's a great time to spend together, make the effort and you'll be rewarded," says Dennis passionately. His son can get excited over Brussel sprouts as long as they get to make the applesauce together.
Together they enjoy making this wholesome chicken curry with broccoli, garlic and rice.
What you'll need for 4 persons:
500 gr chicken thighs, cut in large chunks, marinate the meat in about 2 tablespoons Madras curry powder, a dash of olive oi l and just a inch of salt
2 onions, sliced in 8
1 broccoli, remove the stems from the flowers and cut the stems into smaller pieces as you can eat that too!
1 spring onion, chopped
6 garlic cloves, sliced
100 gram butter
120 gram flour
2 tablespoons creme fraiche
Fragrant rice like basamati rice
Heat up a large frying pan and add some (olive) oil. Add the broccoli and onion and lightly fry these for a few minutes. Add the spring onion and season with a sprinkle of salt. Remove the crunchy vegetables from the pan and set aside.
Fry the chicken and garlic in some oil until browned and tender. Add 100 gram of butter and let it sizzle, add 120 gram of plain flour to make a roux from the butter, flour and chicken.
The roux should fry for a few minutes before you add the chicken stock to create a lovely creamy sauce.
When the sauce has reached the desired consistency you can stir in 2 tablespoons creme fraiche to make a beautifully smooth sauce.
Last but not least you add the fried veggies back to the sauce, which have kept their goodness because they're fried instead of cooked!
Serve the curry in a large bowl with some fragrant rice and some cassave chips and pickled cucumbers.
Enjoy!
(Oh and I got to try a pommes souffle! Flown in from Holland, Dennis carried 'his babies' in his hand-luggage for service on the Friday night. )