The summer holidays have been awesome, lots of chilling and lots of exploring at the same time. And now it's back to life, back to reality, back to routine. in my latest blogpost for Jamie Magazine NL I suggested to take this time to make a change in the routine before the old one sets back in.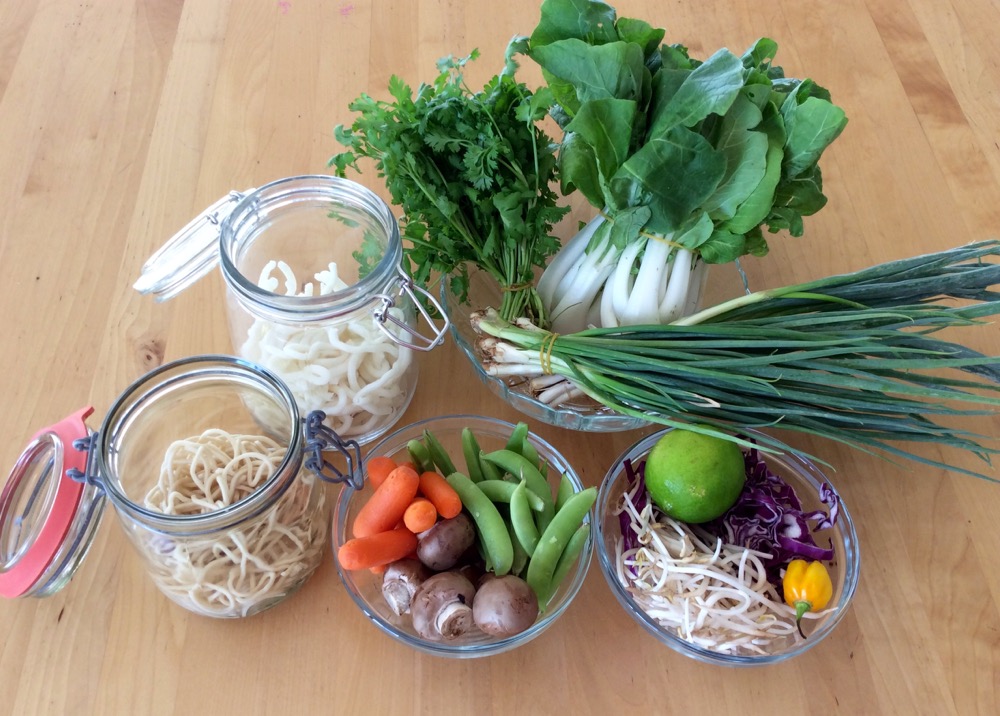 No matter where you are in the world, we all run on our own schedule, our day starts early here on Curacao and we enjoy smaller meals more often than the standard 3x a day meal. As not every one in our family is a big eater at dawn, I want to make a change in our lunch routine, which too often used to be just a slice of bread, quick 'n easy.
Nothing wrong with that, but life can be a bit more exciting, so why not try your hand at your own homemade pot-noodles?
I had a great time playing around with different flavours and ingredients, here are a few pot-noodles recipes:
What you'll need for 1 person/pot:
– 1 1L glass pot or jar
– 1 tablespoon green curry paste
– 1/2 teaspoon fish sauce
– 1/2 teaspoon palm/brown sugar
– 2 tablespoons cream of coconut
– 1 stock cube, crumbled (1/2 if you're using larger cubes)
– 1 slice of lime
– 1 portion dried/ vacuum-packed noodles, cooked according to the instructions.
– Handful of sugarsnaps, julienne diced carrots, shredded red cabbage, gauge, sliced paksoi and some fresh coriander and chopped spring onion.
Put all the paste ingredients in the Mason jar, or any other glass jar. Start with the green curry paste, coconut cream, fish sauce, palm sugar and then the fumbled stock cube.
Layer the noodles on top followed by the veggies make sure you put the fresh coriander on top. Put the lid on the jar and refrigerate until you're ready for lunch.
This should keep in the fridge for about 3 days, so it's great to make in advance!
When you're ready for lunch, just boil a kettle, pour the hot water into the jar until the veggies are submerged, pop the lid back on and allow to draw for about 5 minutes. Give it all a good stir to combine the flavours and tuck in!
Some other pot noodles recipe suggestions:
*Tom-Yum pot noodles recipe*
– 1 tablespoon Tom Yum paste
– Slice of lime and ginger
– Fresh cilli
Add mushrooms, ready cooked shrimps and veggies. Top with fresh coriander.
*Fresh curry pot noodles recipe*
– 1 tablespoon curry powder
– 1 tablespoon tomato ketchup
– 1 crumbled stock cube
– grated ginger and chopped chilli
– Fresh coriander
Add roast chicken (delicious!) and some sweet peas and shredded red cabbage.
*Coconut curry pot noodles recipe*
– 1 tablespoon curry powder
– 2 tablespoons creamed coconut
– 1 teaspoon Sriracha sauce
– 1/2 teaspoon fish sauce
– 1 crumbled stock cube
Add carrots, sugar snaps, paksoi and some cooked shrimps or some left over chicken, or keep it veg only.
There are so many great pot noodles recipes and combinations, I'm going to explore some more this week, be sure to share your combinations with me!
Happy potnoodling 🙂