The Dutch Board of Health has just released the 2015 nutritional guidelines. What it basically comes down to is that we should eat more fruits and veggies (about 200 grams of each a day) less meat, less sugary drinks, lots of unsalted nuts (recommended 15 gr/ handful a day) and we should eat beans and fatty fish once a week. Oh and have 3x a cuppa a day (without sugar and milk that is) and no or very little alcohol. You can read the summarised version of the guidelines here.
I've been reading in Jamie Oliver's latest book Everyday Super Food and came across the wonderful idea of making your own granola dust to replace the, with sugar overloaded, store bought breakfast cereals. I've given Jamie's granola dust my own twist, as some ingredients are just not available here or come at a crazy price.
Here is my version of granola dust: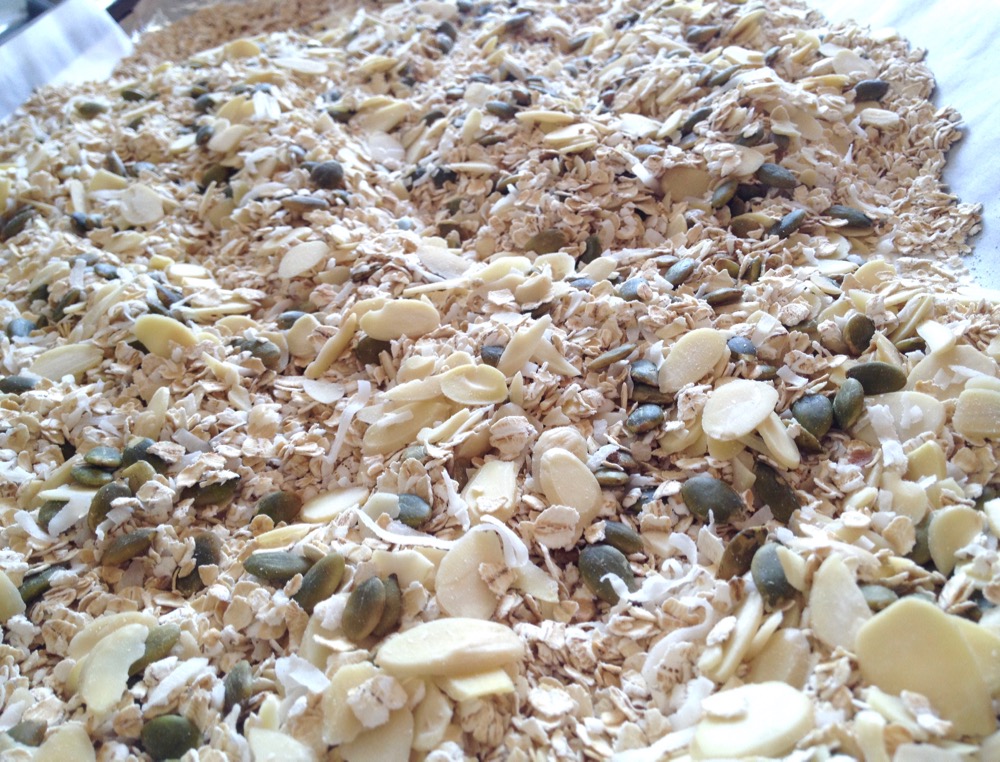 I must admit that I had to get out of my comfort zone when I read the recipe, but I'm glad I did as this is just lovely and wonderful to have in the morning (2 tablespoons) with some cold almond milk and a banana. It keeps you going until lunchtime.
What you'll need for a big jar full of granola dust:
– 500 grams oats
– 150 gram unsalted nuts like almonds, cashews, pecans
– 50 gram seeds like pumpkin seeds, sunflower seeds, poppy
– 100 gram driesd fruit like mango, pineapple, papaya
– 3 handfuls dried coconut
– 2 tablespoons pure cocoa powder
– 2 teaspoons ground coffee
Mix the oats, nuts, coconut and seeds on a large baking tray and roast them for about 15 minutes in a preheated oven at 180 degrees. Keep an eye on them and scoop them around a bit half way.
Add the roasted nuts and oats to a mixing bowl, add the dried fruit, cocoa powder and coffee and give it a good stir. Place it all in a food processor and wiz it into a dust.
Pour it into a big enough jar and store it in a cool and dry place.
This granola dust is very versatile, you can add it to your pancakes, muffins, bread, and eat it plain with yoghurt or (nut) milk. Here's your 15 gr a day unsalted nut intake and your fair intake of fibre rolled into one recipe ☺ Happy Days!